I will admit, I have not been working as hard at etsy stuff. I haven't been hustling, which is what you have to do. Maybe I've lost my mojo, or my love for it. I'm not sure...
I've been cleaning out the basement, and making bins for a one dollar, two dollar and three dollar table for my May yard sale. I think we're getting a little overwhelmed with things, and, if I'm not selling, then I can't be buying.
So for the next few weeks, until my May garage sale, I'll be hustling on Etsy and Ebay - to see if I can love it again, or I should try to get rid of as much as possible that I don't find to be REALLY beautiful or useful. I love planters, and tins, and always will find uses for them - it's just that I know other people will be so happy with them too!
I didn't buy anything this weekend, but I did buy things AFTER I posted last weekend.
This is a VERY dirty vase I found at the Only-Open-Sunday-store:
And this is after I cleaned it:
It does have some mottling, but I think it is big and Beautiful! It's a USA vase, and I think it's awesome.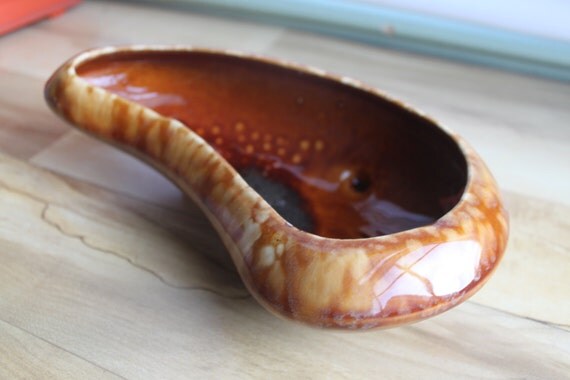 I also got this footed planter -
Kidney shaped Brush - for sale
.
I also bought another planter (surprise) and a piece of California pottery for a buck! sweet!
In other news, my dogs:
fin.